Microsoft PL-600 PDF
Exam Questions:
How to Get Success in Microsoft PL-600 Exam:
Avoid deceptive PL-600 PDF Exam Questions.
Focus on PL-600 Questions (PDF) based on the latest exam syllabus.
Make notes of Microsoft PL-600 PDF for better learning.
Prepare from our latest Microsoft PL-600 PDF file and get success in first attempt.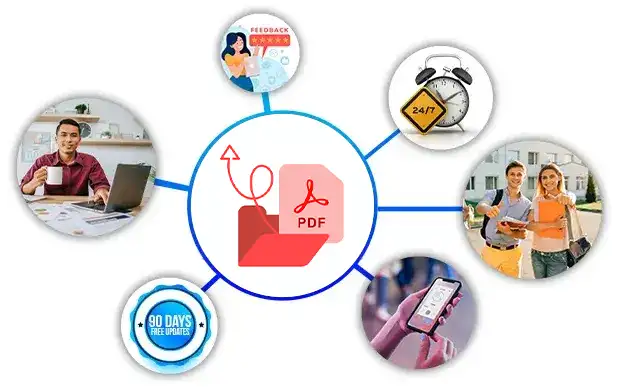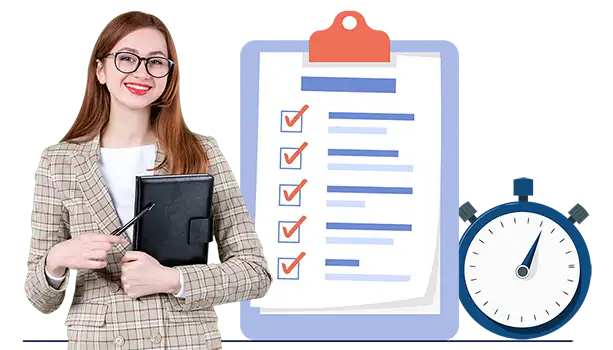 Prepare Microsoft PL-600 Exam
Within Short Time
Your knowledge and abilities are validated by passing the Microsoft PL-600 exam. Our PDF questions and answers will help you prepare for the PL-600 exam in a short time because it includes questions similar to the real Microsoft exam questions. After downloading the PL-600 Microsoft PDF exam questions, relevant to the actual exam, you can take a print of all questions and prepare them anytime, anywhere.
Realistic Scenario Based Microsoft
PL-600 PDF Exam Questions:
Everyone wants to become certified Microsoft Dynamics 365 and improve his/her resume. You should practice with real PL-600 questions. Students can benefit from the PL-600 exam questions which are available in PDF format. The PL-600 exam questions and answers are designed to match the criteria of the actual exam. If you use scenario-based Microsoft PL-600 questions you will have an extra potential to clear the exam on the first attempt.
Q1.
You need to recommend a reporting solution for the organization.
Which two options should you recommend? Each correct answer presents a complete solution.
NOTE: Each correct selection is worth one point.
Answer: B, C
See the explanation below.
Scenario:
The reporting and analytics team must be able to create reports that include data from all facilities and all workers.
Management reports must present an overview of the entire organization. Other reports may be limited to specific offices.
B: Power Apps apps can include reports that provide useful business information to the user. These reports are based on SQL Server Reporting Services and provide the same set of features that are available for typical SQL Server Reporting Services reports.
C: Microsoft Dynamics 365 online and Model-Driven PowerApps offers several advanced reporting options. Advanced reports are often necessary when business requirements demand complex calculations, returning multiple data sets, grouping large sets of data based on rules, and retrieving data from different data sources.
Incorrect Answers:
D: Scenario: Users cannot view Power BI reports within the Power Platform apps.
Note: Power BI enables data insights and better decision-making, while Power Apps enables everyone to build and use apps that connect to business data. Using the Power Apps visual, you can pass context-aware data to a canvas app, which updates in real time as you make changes to your report.
https://docs.microsoft.com/en-us/powerapps/maker/model-driven-apps/add-reporting-to-app
https://powerusers.microsoft.com/t5/Building-Power-Apps/Creating-SSRS-Report-for-Model-Driven-PowerApps/td-p/621866
https://docs.microsoft.com/en-us/powerapps/maker/canvas-apps/powerapps-custom-visual
Q2.
You need to recommend a solution for handling data entry requirements for the mobile audit teams.
What are two possible ways to achieve the goal? Each correct answer presents a complete solution.
NOTE: Each correct selection is worth one point.
Answer: A, B
See the explanation below.
Scenario:
Audit teams must have the ability to view worker information on their mobile devices.
Audit teams must be able to record data during visits to locations where workers are placed.
When you create an app, or someone shares an app with you, you can run that app on the Power Apps mobile app or in a web browser.
https://docs.microsoft.com/en-us/powerapps/user/run-app-browser
Q3.
You need to recommend technology for accessing historical job placement data.
What should you recommend?
Answer: B
See the explanation below.
A virtual table is a custom table in Microsoft Dataverse that has columns containing data from an external data source. Virtual tables appear in your app to users as regular table rows, but contain data that is sourced from an external database, such as an Azure SQL Database. Rows based on virtual tables are available in all clients including custom clients developed using the Dataverse web services.
Scenario:
First Up uses an on-premises system to manage current and historical patient data including medications and medical visits.
The company plans to reference historical data in the existing system. The records held in these systems will not be migrated to the new solution except for medication information.
The solution must provide a worker appointment booking system that can access worker historical job placement data.
First Up staff members must be able to view and update worker records. They must be able to see current and historical job placement data on the same form in the new solution.
https://docs.microsoft.com/en-us/powerapps/maker/data-platform/create-edit-virtual-entities
Q4.
You need to investigate the canvas app functionality issues.
Which two tools can you use? Each correct answer presents a complete solution.
NOTE: Each correct selection is worth one point.
Answer: A, C
See the explanation below.
Scenario: The testing team reports that one of the canvas apps is not working as expected. An error message displays as specific pages load.
A: The App checker is now available to help provide a clear list of formula issues in your app, and to provide items to fix to make your app accessible. The App checker is an area that the PowerApps team will continue to invest in, and build on in order help to make debugging, performance and best practice decisions an easier and more guided experience.
C: With the solution checker feature, you can perform a rich static analysis check on your solutions against a set of best practice rules and quickly identify these problematic patterns. After the check completes, you receive a detailed report that lists the issues identified, the components and code affected, and links to documentation that describes how to resolve each issue.
https://powerapps.microsoft.com/en-us/blog/new-app-checker-helps-you-fix-errors-and-make-accessible-apps/
This is a case study. Case studies are not timed separately. You can use as much exam time as you would like to complete each case. However, there may be additional case studies and sections on this exam. You must manage your time to ensure that you are able to complete all questions included on this exam in the time provided.
To answer the questions included in a case study, you will need to reference information that is provided in the case study. Case studies might contain exhibits and other resources that provide more information about the scenario that is described in the case study. Each question is independent of the other questions in this case study.
At the end of this case study, a review screen will appear. This screen allows you to review your answers and to make changes before you move to the next section of the exam. After you begin a new section, you cannot return to this section.
To start the case study
To display the first question in this case study, click the Next button. Use the buttons in the left pane to explore the content of the case study before you answer the questions. Clicking these buttons displays information such as business requirements, existing environment, and problem statements. If the case study has an All Information tab, note that the information displayed is identical to the information displayed on the subsequent tabs. When you are ready to answer a question, click the Question button to return to the question.
Background
Relecloud provides regional air service in North America. The company uses a variety of systems, apps, and services to manage the business. You are hired to design a new solution to manage passenger information, reservations, and maintenance.
Q5.
You need to recommend a solution for agents when working with customers to make reservations.
What should you recommend?
Answer: B
See the explanation below.
Business process flows provide a guide for people to get work done. They provide a streamlined user experience that leads people through the processes their organization has defined for interactions that need to be advanced to a conclusion of some kind.
Use business process flows to define a set of steps for people to follow to take them to a desired outcome.
With business processes flows available as an entity, you can now use advanced finds, views, charts, and dashboards sourced from business process flow data for a given entity, such as a lead or opportunity.
Scenario:
Agents need a solution to replace paper reservation checklists.
Agents need dashboards to show a current count of all reservations on the entity.
Agents need a way to track reservation issues.
Agents need a visual indicator in the interface to determine the reservation step to provide a seamless customer experience.
Reliable Source Of Preparation For
Microsoft Power Platform Solution Architect Exam.
We provide Microsoft Dynamics 365 certification questions along with answers to assist students in passing the Microsoft Exam. You can enhance your Microsoft PL-600 preparation with the help of an online practice engine. Try out our Microsoft PL-600 questions because 98% of Examskit users passed the final PL-600 exam in one go.