Microsoft AZ-104 PDF
Exam Questions:
How to Get Success in Microsoft AZ-104 Exam:
Avoid deceptive AZ-104 PDF Exam Questions.
Focus on AZ-104 Questions (PDF) based on the latest exam syllabus.
Make notes of Microsoft AZ-104 PDF for better learning.
Prepare from our latest Microsoft AZ-104 PDF file and get success in first attempt.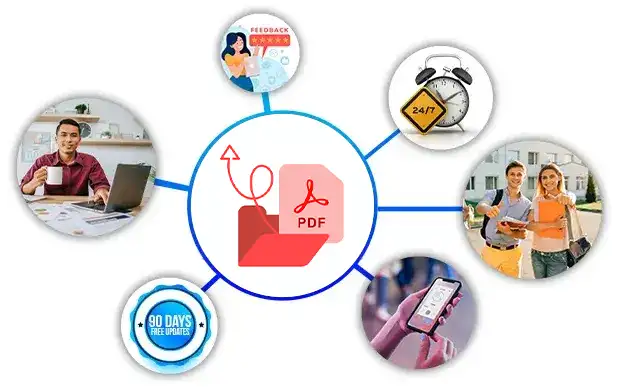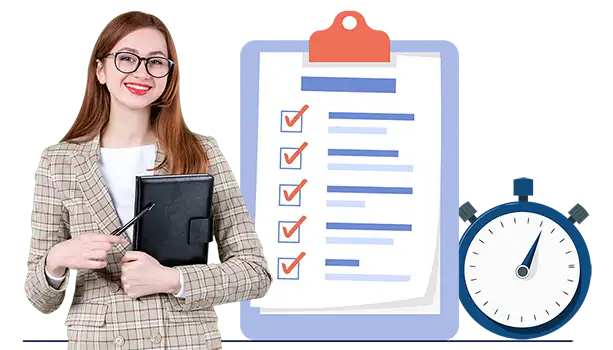 Prepare Microsoft AZ-104 Exam
Within Short Time
Your knowledge and abilities are validated by passing the Microsoft AZ-104 exam. Our PDF questions and answers will help you prepare for the AZ-104 exam in a short time because it includes questions similar to the real Microsoft exam questions. After downloading the AZ-104 Microsoft PDF exam questions, relevant to the actual exam, you can take a print of all questions and prepare them anytime, anywhere.
Realistic Scenario Based Microsoft
AZ-104 PDF Exam Questions:
Everyone wants to become certified Azure Administrator Associate and improve his/her resume. You should practice with real AZ-104 questions. Students can benefit from the AZ-104 exam questions which are available in PDF format. The AZ-104 exam questions and answers are designed to match the criteria of the actual exam. If you use scenario-based Microsoft AZ-104 questions you will have an extra potential to clear the exam on the first attempt.
Q1.
You discover that VM3 does NOT meet the technical requirements.
You need to verify whether the issue relates to the NSGs.
What should you use?
Answer: E
See the explanation below.
Scenario: Litware must meet technical requirements including:
Ensure that VM3 can establish outbound connections over TCP port 8080 to the applications servers in the Montreal office.
IP flow verify checks if a packet is allowed or denied to or from a virtual machine. The information consists of direction, protocol, local IP, remote IP, local port, and remote port. If the packet is denied by a security group, the name of the rule that denied the packet is returned. While any source or destination IP can be chosen, IP flow verify helps administrators quickly diagnose connectivity issues from or to the internet and from or to the on-premises environment.
https://docs.microsoft.com/en-us/azure/network-watcher/network-watcher-ip-flow-verify-overview
Q2.
You need to meet the technical requirement for VM4.
What should you create and configure?
Answer: B
See the explanation below.
Scenario: Create a workflow to send an email message when the settings of VM4 are modified.
You can start an automated logic app workflow when specific events happen in Azure resources or third-party resources. These resources can publish those events to an Azure event grid. In turn, the event grid pushes those events to subscribers that have queues, webhooks, or event hubs as endpoints. As a subscriber, your logic app can wait for those events from the event grid before running automated workflows to perform tasks - without you writing any code.
https://docs.microsoft.com/en-us/azure/event-grid/monitor-virtual-machine-changes-event-grid-logic-app
Q3.
You need to recommend a solution to automate the configuration for the finance department users. The solution must meet the technical requirements.
What should you include in the recommended?
Q4.
You need to ensure that VM1 can communicate with VM4. The solution must minimize administrative effort.
What should you do?
Q5.
Which blade should you instruct the finance department auditors to use?
Answer: D
See the explanation below.
You can opt in and configure additional recipients to receive your Azure invoice in an email. This feature may not be available for certain subscriptions such as support offers, Enterprise Agreements, or Azure in Open.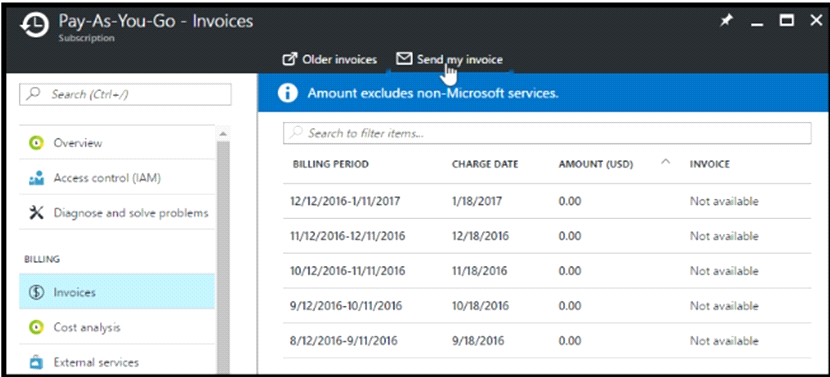 Click Opt in and accept the terms.
Scenario: During the testing phase, auditors in the finance department must be able to review all Azure costs from the past week.
Reliable Source Of Preparation For
Microsoft Azure Administrator Exam .
We provide Azure Administrator Associate certification questions along with answers to assist students in passing the Microsoft Exam. You can enhance your Microsoft AZ-104 preparation with the help of an online practice engine. Try out our Microsoft AZ-104 questions because 98% of Examskit users passed the final AZ-104 exam in one go.