CCNA
Validate Your
Networking Credibility with CCNA Certification
CCNA certification covers the basics of networking, IP services, security, automation, and programmability. The CCNA certification, which was created for flexibility and agility, attests to your proficiency in managing and enhancing the most cutting-edge networks of the present. It also provides you with the foundation to pursue any professional path. By earning a certification from Cisco, you demonstrate the caliber and integrity that companies see as essential for meeting and exceeding market demands.
So if you want to increase your IT industry reputation and become Cisco certified, you must prepare for the 200-301 core exam. It's tough to prepare for the CCNA exam certification through online courses and training but don't worry ExamsKit provides you with actual exam questions. These real exam questions improve your preparation and you can pass your exam on the first attempt.
Become A Successful
CCNA Certified With Our Reliable Prep Material
CCNA certification requires time and effort, but with reliable preparation material and continuous practicing, you can achieve your goal of becoming a successful CCNA certified professional. You should use ExamsKit's practice test software because our practice test software contains real exam questions. If you do more practice on reliable practice test software you can easily understand the structure and content of the (200-301) exam. This will assist you in determining the areas where you should concentrate your study efforts. Our all exam questions are actual and updated according to Cisco's official exam syllabus. Evaluate your results after each practice test to determine what needs work. Focus your study efforts using this information, and change your study strategy as necessary.
Prerequisites And Objectives For
Cisco CCNA Certification
The 200-301 exam does not have any official prerequisites set by Cisco, although applicants should be familiar with the fundamentals of computer networking, such as the OSI model, LAN and WAN technologies, and routing and switching concepts. It's also recommended that candidates have experience working with Cisco networking equipment and have a Cisco CCNA Routing and Switching certification or any Cisco CCIE certification as a prerequisite. It's also advised to be familiar with fundamental programming ideas like data types, control structures, and simple scripts. Additionally, working knowledge of Cisco network hardware and Cisco IOS software is strongly recommended. This can be acquired by our real exam questions, lab practice, or by enrolling in a training program that has been approved by Cisco.
The (200-301) Cisco Certified Network Associate exam's objectives are:
Basics of Networking: Describe the purpose and use of network components (20%)
Access to Network: Create and validate VLANs (normal range) that span several switches (20%)
Connectivity through IP: Interpret the routing table's elements (25%).
Services IP: Set up and test NTP in both client and server modes (10%)
Fundamentals of Security: Describe important security terms (threats, vulnerabilities, exploits, and mitigation techniques) (15%)
Programmability and automation: Describe the effects of automation on network administration (10%)
After becoming CCNA certified, you get the ticket to advance to the Professional and Expert Levels.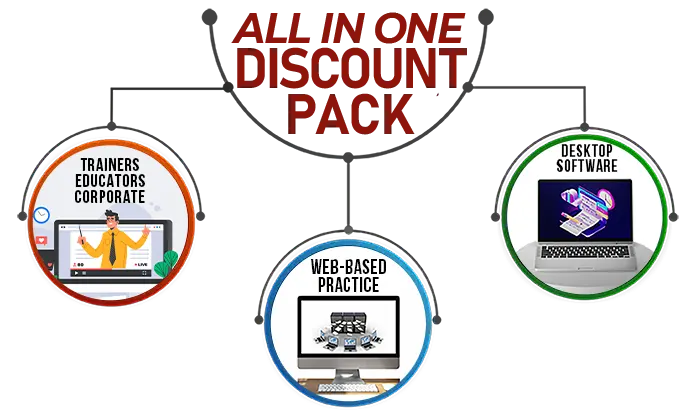 Get Cisco CCNA Exam Bundle Pack for your team!
Special offer for Trainers & Institutes
Limited time Discount Offer
Desktop & Web-Based Practice Exams
No.of Active Exams : 1
Free Updates for : 90 Days
Do You Know Why Candidates Fail in CCNA Exam?
One of the most important reasons behind the failure of Cisco exam candidates includes the absence of the most relevant and updated study material. Many candidates do not know the latest questioning techniques of the CCNA exam. When candidates do not realize the importance of self-assessment before appearing in the real CCNA exam, they face failure.
Examskit's users get the solution to all these problems in our amazing exam preparatory products. One of the products is a PDF file that contains realistic CCNA questions according to the latest Cisco exam questioning styles. Our Cisco exam practice software is enriched with various customization features like shuffling of Cisco exam questions, setting custom timer & passing percentage etc. All this enhances the confidence of the Cisco exam candidate and he appears in his actual CCNA exam without any fear of failure.